BI Blog Series – All Articles Now Released!
Read the Next Part in the Series: Part 5: Pronto Xi Office Embedded BI with Cognos for Office now. Click here to view.
Or navigate to the bottom of this page to view links to other posts in the series.
Part 4: KPI Management and Workspaces
Key Performance Indicator (KPI) management, released in Pronto Xi ERP Software version 740 creates an interactive user workspace in the Pronto Xi noticeboard area using industry standard metrics. The KPI Library is a repository for performance data that can be calculated at user-defined intervals to assist in monitoring business activity based upon specific performance indicators at any point in time. The KPI library is designed to provide optimized and pre-aggregated data for reporting and analysis and can be incorporated into dashboards, analytical tools and a range of other visual outputs.
Pronto Xi ERP Software's KPI Library offers:
Pre-aggregated data
Flexible user defined aggregation points or drill paths
Flexible snapshot data which delivers trend over time
Figure 1 – Pronto Xi Business Intelligence KPI Library
The Pronto Xi KPI Library currently contains a number of predefined KPIs. As of release 740 there are over 80 KPIs including Sales, GL, AP, AR, Inventory, Service & Project, with over 1400 business metrics. The development roadmap indicates that future releases will progressively include KPIs covering additional functional areas.
All functionality associated with the KPI library is native to the foundation licensing of Pronto Xi with no additional licensing cost required for use of these tools.
Each KPI is flexible to allow for any drill path or aggregation point as desired by business users. This forms an appropriate structure so that data is meaningful as it is digested. It is also possible to determine how often a snapshot of the KPI should be taken to ensure analysis over time is accurate.
The KPI Library is different from the existing reporting packages.
Existing reporting packages model live transactional data. That is, the transactional data is left in place and the Cognos Model brings together all the relevant information often required for reporting purposes.
The KPI Library has new tables containing information specifically optimized for reporting and analytic purposes. The KPI Library is not a cube although there are certain 'cube like' aspects to the Library's data. The KPI Library data is staged, meaning it is not live and will be displayed 'as at' a specific date and time. The Library is flexible enough to allow the data to be updated very frequently, it can even be refreshed every so many minutes if required.
Figure 2 – Pronto Xi KPI Library Architecture
To get the KPI Library working "out-of-the-box" certain things like drill paths, history and snapshot frequency are pre-defined. However, users can modify beyond the predefined defaults should they choose.
This is done via the KPI Library function.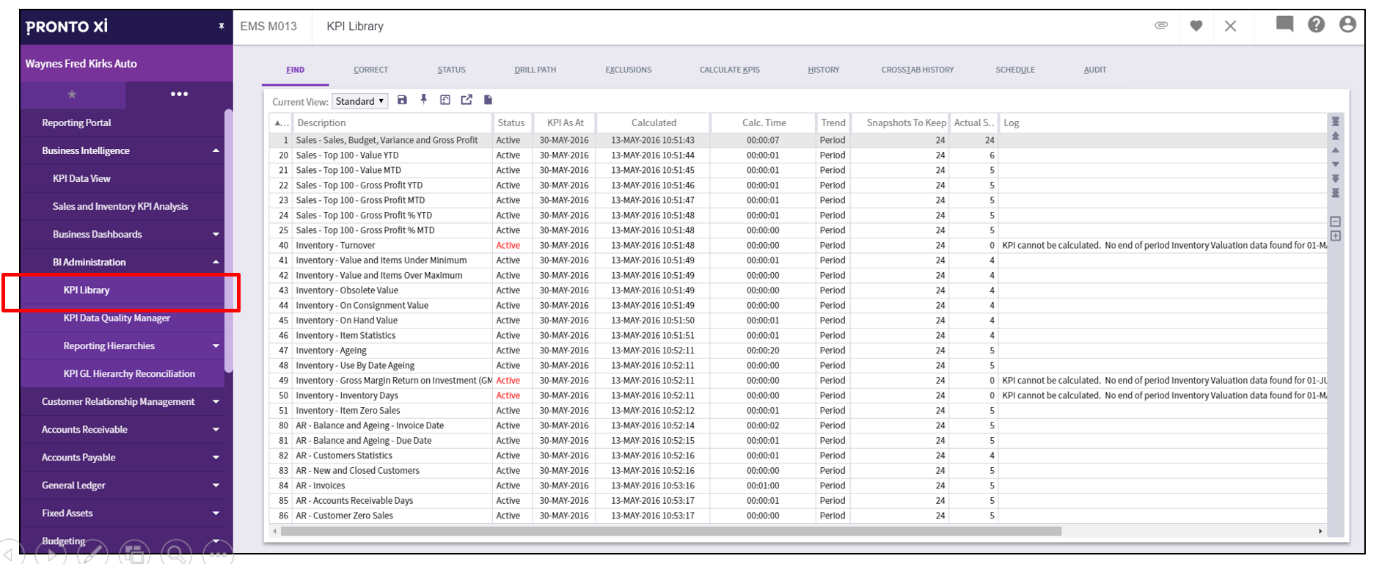 Figure 3 – Pronto Xi KPI Library Function
Each individual KPI can have multiple metrics. In the case of KPI 1 Sales – Sales, Budget, Variance and Gross Profit there are 60 individual metrics which highlights the flexibility of the individual KPIs. A KPI for sales for one organization could be completely different to another, so this additional detail allows Pronto Xi KPI management to work out of the box for any industry.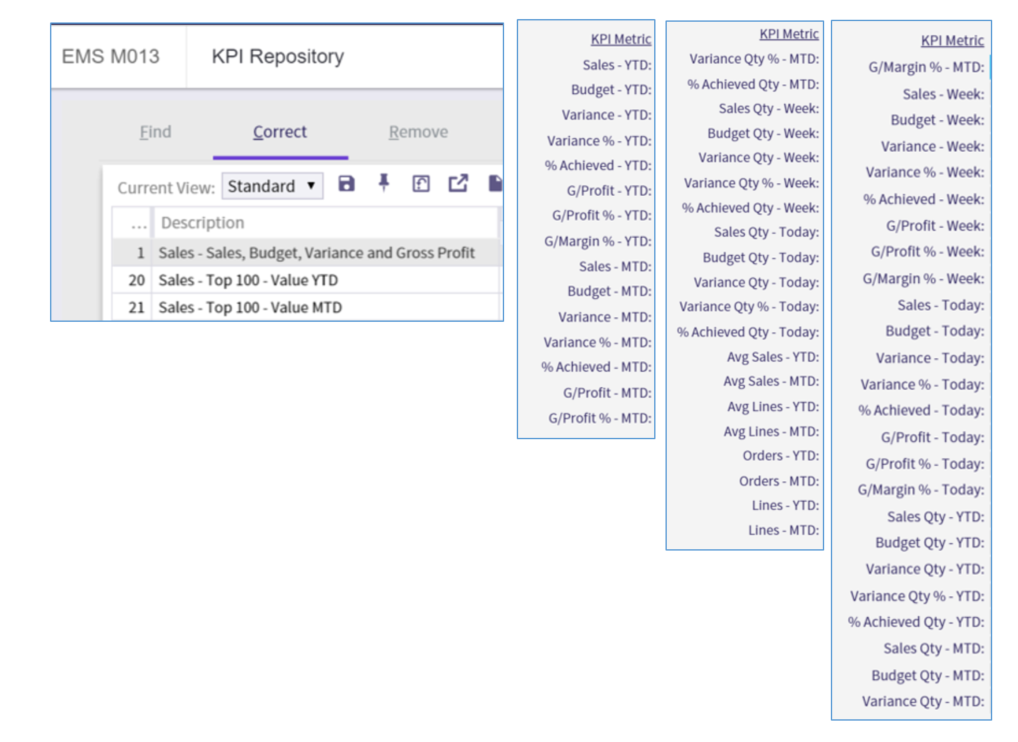 In addition, beyond the standard budgeting process, each KPI can have targets associated with each record that allow for analysis of performance vs targets.

The workspace area allows users to design their own KPI views based upon the information that is relevant to their role. The interface for an end user is simple and clean and allows widgets to be graphically added, dragged and dropped to suit the user's needs.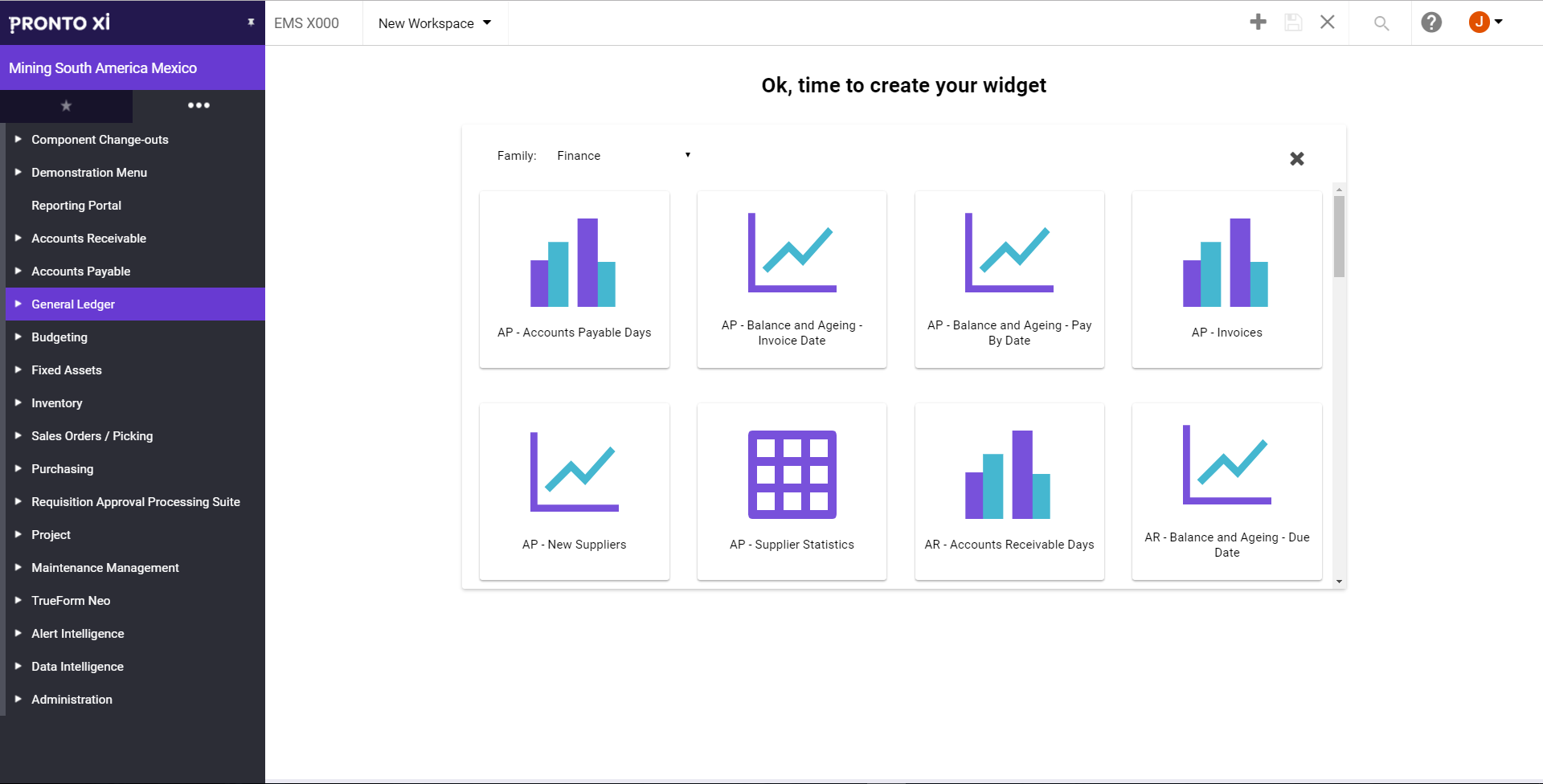 Each of the KPIs is set up as a widget, and the user is able to change the method of display or drill into the data for more comprehensive information. One of the easiest and fastest KPIs to set up is the array of GL KPIs which are all based on the hierarchy 100.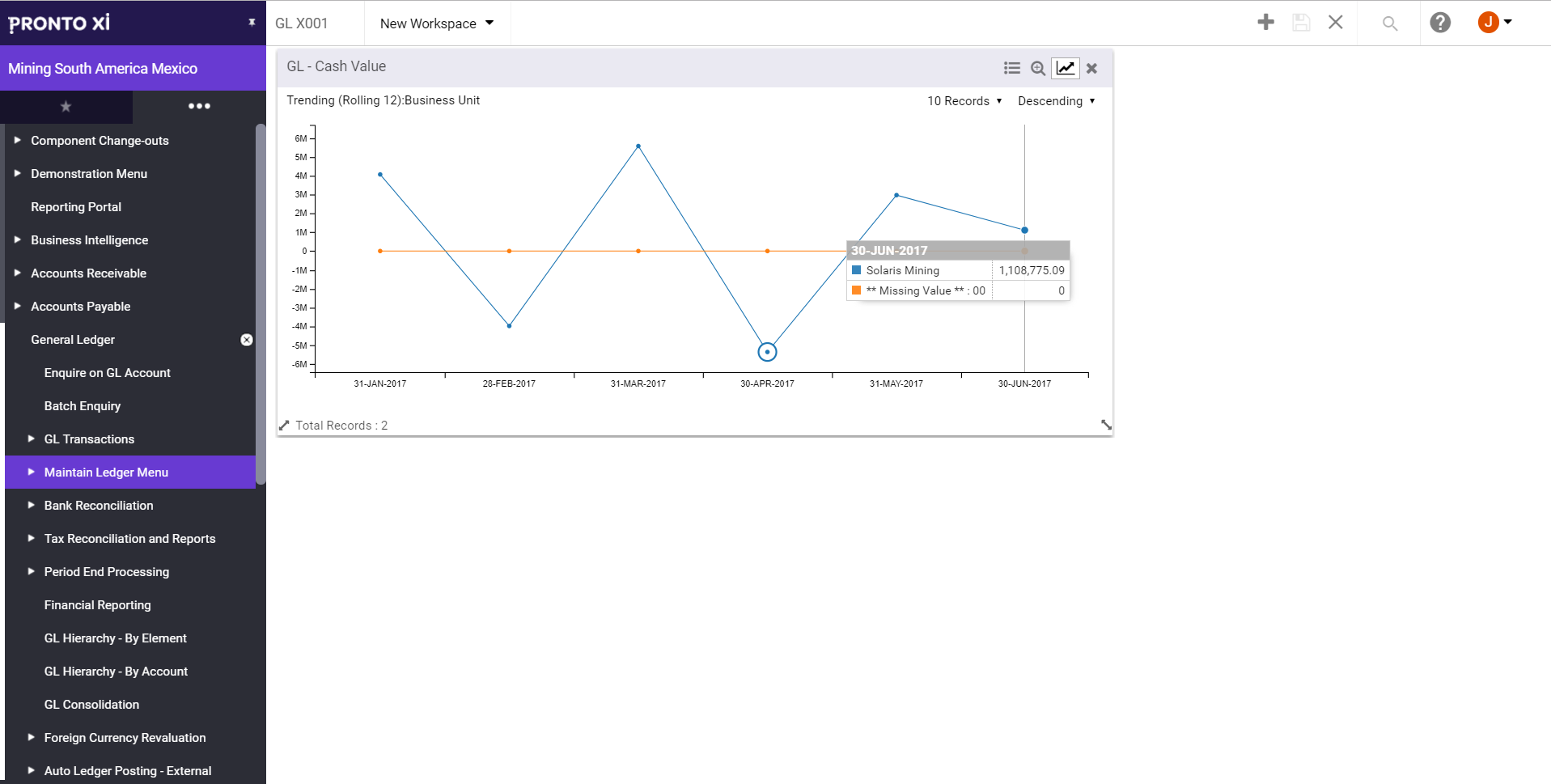 Once developed, the KPIs can incorporate every module on one screen, allowing users to have complete visibility over the organization's performance at any point in time.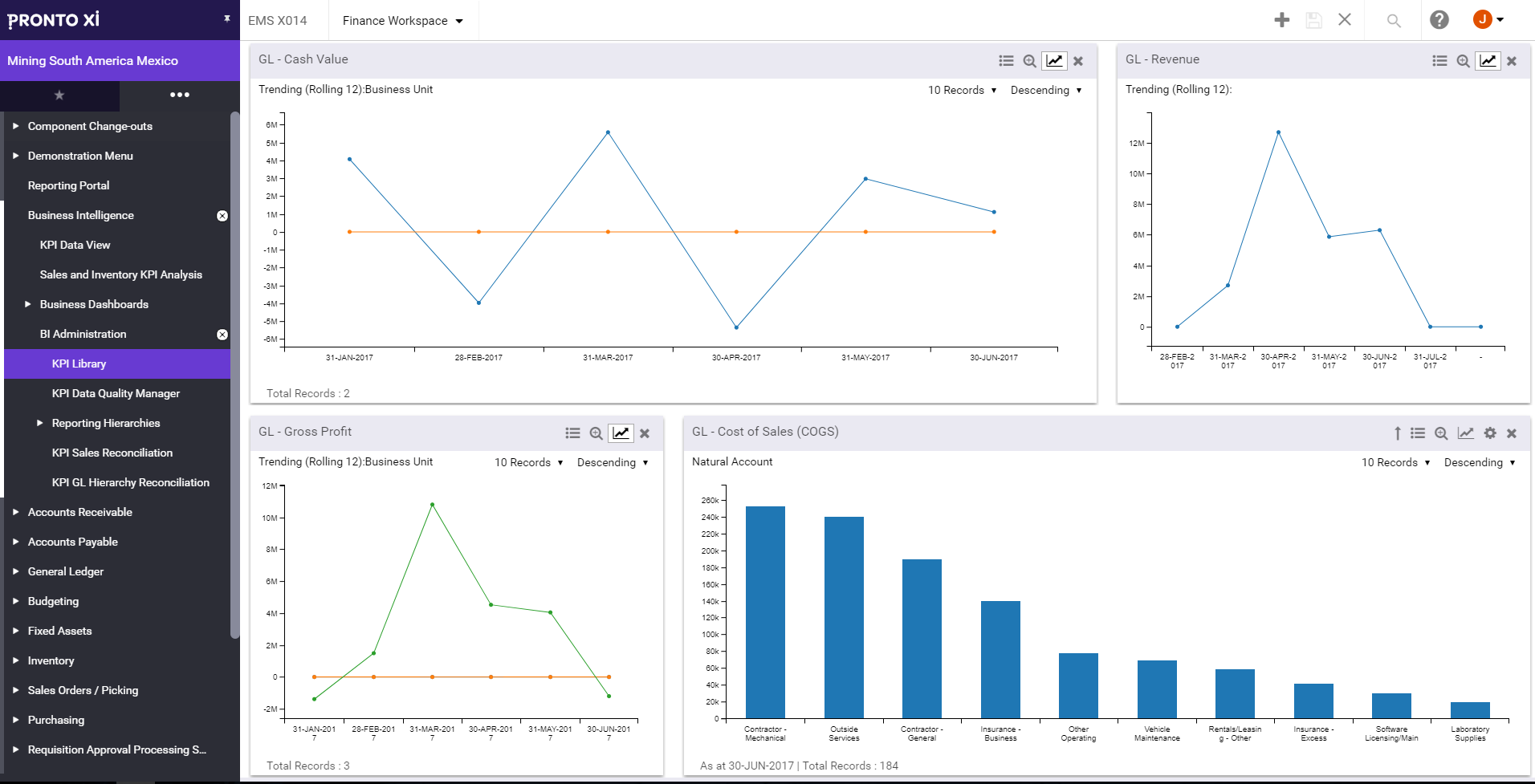 KPIs add significant value to the ERP environment and require little administration or set up effort. Given that the functionality is included in the cost of the base user licensing, any organization on Pronto Xi 740 should find the time to implement KPIs to better understand the success of the business.
To read all parts of the Pronto Xi Business Intelligence blog series, follow the links below:
Pronto Xi ERP software provides a complete Business Intelligence Suite using IBM Cognos Analytics as its foundation. Pronto Xi's BI content catalog includes a full range of out-of-the-box operational reports, KPIs, and business dashboards that are immediately ready for use. For more information view the Business Intelligence Overview.