Rapid Deployment Foundation
Streamlined Pronto Xi implementation
Scalable offering based on phase of mining lifecycle
Exploration – Construction – Commercial Production
Mining Industry Business Processes
Global mining best practices
Focus on finance, supply chain and maintenance
Emphasis on development and training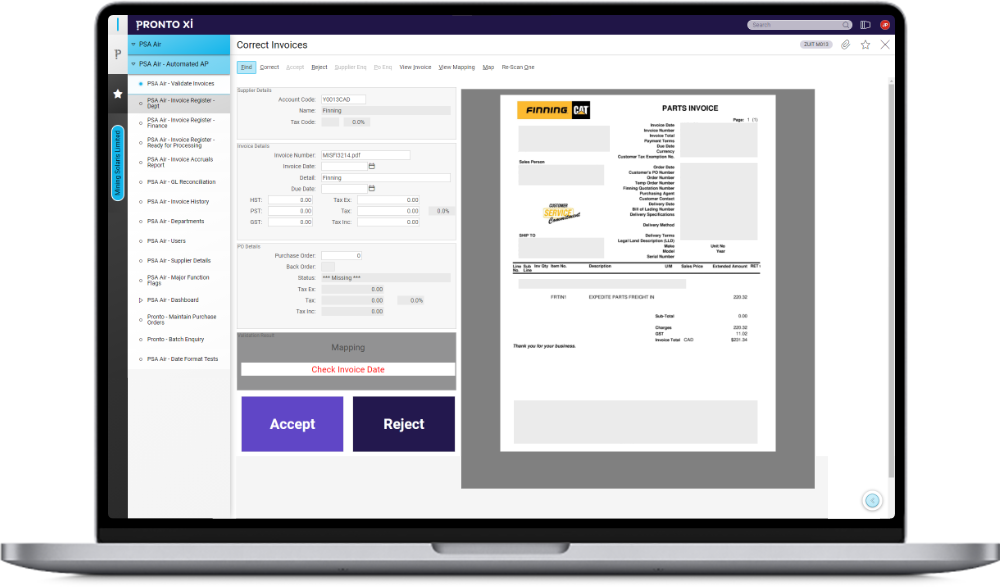 Business Process Management
FlowCentric Processware BPM Software
Core mining-focused process catalogue
Capability to react to workflow demand
Business Intelligence
Comprehensive stack of solutions
Complimentary products to meet all requirements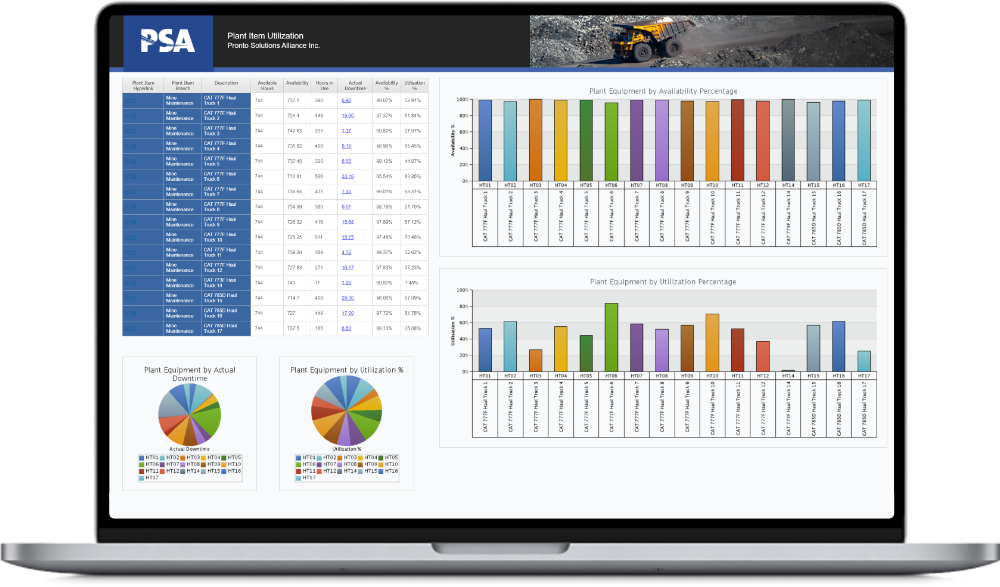 Mining Operations
Expanding scope of mining offerings
Fill gap in available mine management tools
Focus on operations and safety
Unparalleled mining functionality delivered by mining professionals.
Out-of-the-box mining functionality

From mining to operations to corporate, a single fully integrated solution that provides seamless operation of your mining organization.

Support for multi-national producers

Multi-company, multi-currency and consolidations for organization wide reporting.

Industry specific training solution

Full workshops and training designed and delivered specifically to highlight mining capability.

Preconfigured yet flexible mining deployments for quick ERP turnaround with equally quick ROI.

Industry proven Chart of Accounts

Pre-built using best practices, the mining Chart of Accounts offers thousands of recommended accounts for comprehensive tracking and analysis.

Predictive and planned EAM

Robust asset management and maintenance management to minimize inventory and downtime costs.

Scalability: exploration to production

Perfect for transition from exploration, Pronto Xi supports as little as 10 users with the ability to add users and modular functionality throughout the mining life cycle.

Integrated BI: IBM Cognos Analytics

Real-time business intelligence from built-in IBM Cognos provides access to interactive reports and KPI dashboards.

Unrivaled industry experience

Dedicated mining team with international experience and diverse mineral resource knowledge.
Mining ERP Software Implementation and Consulting Services
For mining organizations in search of ERP software, maximizing investment benefit is critical. The volatility and risk associated with fluctuating prices of natural resources means expenditures must provide deep positive impact to operations. Investing in Mining Enterprise Resource Planning (ERP) software provides payback through streamlining operations and increasing control of critical processes. Selection of a proven mining management ERP solution — even at the exploration stage-therefore becomes key to driving mining success.
PSA utilizes its knowledge of mining operations and the natural resources industry sector to help realize quicker ROI for clients. Through implementation of industry proven mining software, Pronto Xi, PSA provides guidance throughout the mining lifecycle. From exploration to production, PSA improves key strategic areas that impact mining like — job costing, inventory, planned maintenance and business intelligence reporting and compliance.
PSA assists exploration, greenfield, brownfield, junior miners, producing miners and mining services organizations to meet their targets of reducing operating costs and improving production efficiencies to achieve profitability.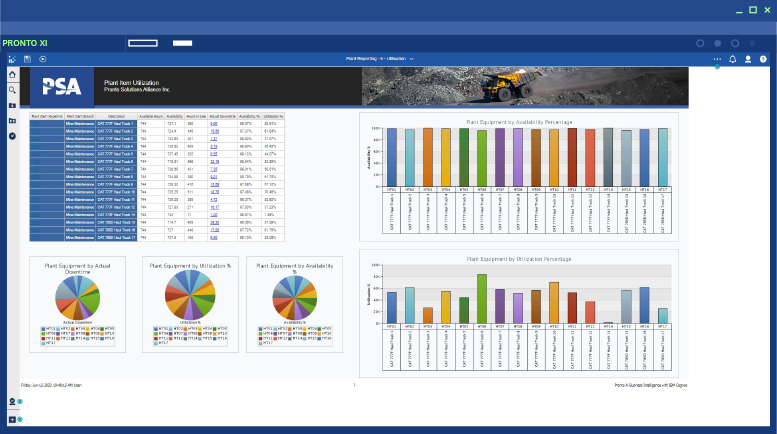 All-inclusive mining ERP software with non-stop innovation.



Current Highlights

Predictive and preventative maintenance management

Integrated business intelligence

Job costing for AFE, Exploration, Capital Development and Construction

One-Click, Excel driven, financial period reporting

Automated accounts payable

System-wide workflow




Continuous Development

Out-of-box mine specific reporting

Expanded BI offering

Vendor portal

Workflow and business process management

Integration to non-financial reporting systems

Security and Authentication




What's next?

Mobile maintenance mobile app

Expenses management

Resource management/scheduling

Contract management
Pronto Xi ERP Software:
Mining Industry Success Story
Anvil Mining, a leader in copper and silver production in Congo, articulates how despite being in an extremely remote location, they are able to generate accurate, up-to-date reports in real-time.
PSA Pronto Xi Mining ERP Software Solution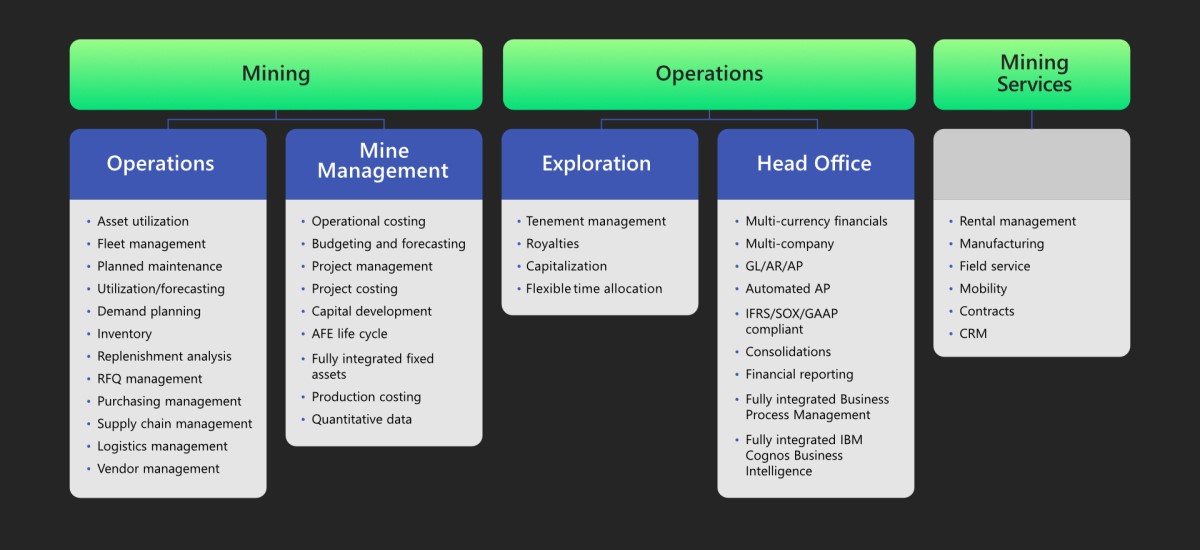 Learn more about Pronto Xi for mining erp software