Unparalleled pharmaceutical and healthcare wholesale-distribution functionality delivered by professionals.
Improved order fill rates

DRP and advanced forecasting provide accurate demand planning to ensure all received orders are filled – even during seasonal demand and trends.

Dispensary solution integration

Ensure proper adjudication of prescription payments between insurers and clients while keeping ERP data up-to-date for accurate record keeping.

Built-in utilities to ensure compliance with federal agencies and regulators like Health Canada and US Food and Drug Administration.

Product Expiration/Shelf Life Tracking

Manage stock with FIFO inventory, shelf life tracking, best before dates and use-by dates.

Inventory traceability-serial lot, or purchase

Accurately manage inventory across multiple locations by serial number, lot number or purchase order number.

Comprehensive rental functionality for tracking serialized and non-serialized medical supplies and equipment contracts.

eCommerce and Point-of-Sale (POS)

Full featured eCommerce and POS built-in to satisfy customer shopping experiences in real-time.

Integrated BI: IBM Cognos Analytics

Real-time business intelligence from built-in IBM Cognos Analytics provides access to interactive reports and KPI dashboards.

Unrivaled industry experience

Dedicated team with longstanding experience in all facets of distribution management.
Ask us how we can integrate Pronto Xi ERP Software with essential
dispensary and health network solutions.
ERP Software for Pharmaceutical & Healthcare Providers
Pharmaceutical and healthcare wholesale-distribution is a highly regulated industry that requires a strong ERP software solution to ensure accurate and safe medication dispensing. Pharma and healthcare providers require robust software functionality in a variety of areas including inventory, warehouse, distribution, rental, point-of-sale (POS), eCommerce and more. Yet, business systems must remain flexible enough to interface with industry specific pharmacy management systems, dispensing systems and regulatory agency networks and their systems.
At PSA, we have proven experience in providing this unique expertise to a range of pharmaceutical providers using Pronto Xi ERP Software. Each with their own unique processes, we have provided secure and robust solutions built on the foundation of Pronto Xi that encompass a range of complexities including dispensary and health network integration, adjudicated (split) billing, inventory traceability and expiry, narcotics management, biowaste management, proof of delivery, eCommerce, rental wash bay processes, and more.
Our clients are essential providers and distributors of prescriptions, medications, medical supplies and medical equipment to individuals, short-term care, long term care, retirement residences and pharmacy outlets.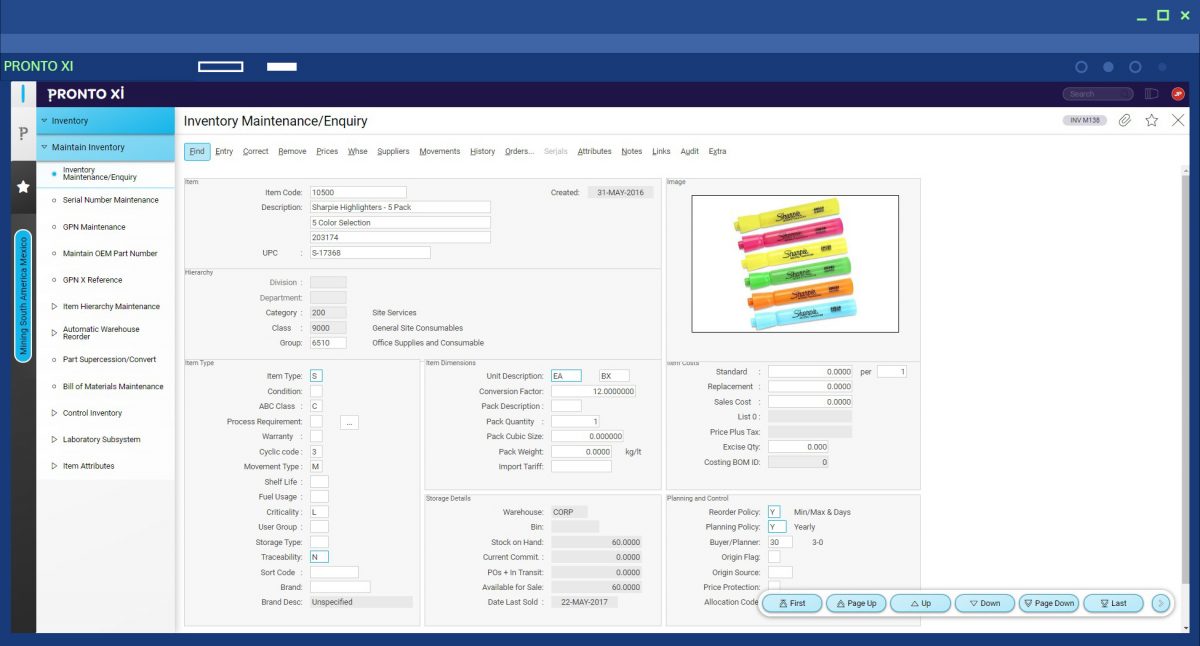 Comprehensive pharmaceutical and healthcare distribution functionality with non-stop innovation.



Current Highlights

Dispensary and health network system integration

Proof of delivery application

One-click, Microsoft Excel driven Financial Reporting

Integrated Business Intelligence




Continuous Development

Vendor portal

DRP enhancements

Resource management

RF web enablement




What's next?

2D barcode support

Point-of-Sale for iOS

Flexible pricing by lot/batch or serial
PSA Pronto Xi Pharmaceutical & Healthcare ERP Software Solution