Unparalleled field service functionality delivered by service professionals.
Full call and engineer visibility

Robust service call module with integrated resources, scheduler, mobility and maps.

Setup service contracts for serialized items, recurring billing, warranty, maintenance and more.

Dedicated Mobile Service Application

Keep engineers connected on the road with the ability to log, process and track all service activities.

Visual Drag & Drop Engineer Scheduling

Optimize dispatch efficiency with intelligent engineer assignment by skill-set, location and more.

In-Vehicle Service Parts Tracking

Never run out of service parts with detailed service parts tracking in vehicles and warehouses.

Predictive & Preventative Maintenance

Proactive maintenance management including Predictive Q&A integrated with Service Call logging.

Customer self-Service Call Logging

Direct access to real-time service call information and call logging.

Integrated BI: IBM Cognos Analytics

Real-time business intelligence provides access to interactive reports and KPI dashboards.

Unrivaled industry experience

Dedicated team with longstanding experience in all field service management.
Ask us how you can improve your call-to-cash process with
real-time mobile field service tools.
Field Service Software Implementation and Consulting Services
Effective field service management ERP software advances the leading key performance indicator (KPI) for Field Service industries, which is customer satisfaction.
Organizations are challenged to identify new ways to provide additional value to customers either through innovation or customer-centric process change to continually boost this service indicator. Yet the challenge is surmounting as customer expectations continue to rise with the onset of new technologies including 24/7 public forum accessibility to suppliers through social media outlets.
Field Service executives must look for methods to continually improve service delivery — but what may not be in their sight is the positive affect that modern Field Service ERP software can have on customer satisfaction levels. When implemented by a team that can assess current service delivery levels and translate opportunities through ERP software, payback can be quickly achieved.
PSA has the team and tools to provide insight and recommendations for field service operations. We possess a strong mix of industry experience and Pronto Xi ERP Software knowledge that can improve customer satisfaction and other critical service KPI's like utilization, first-time fix rate, and Service Level Agreement (SLA) compliance.
All-inclusive distribution functionality with non-stop innovation



Current highlights

Real-time mobile service

Integrated route mapping

Customer service call portal

Full maintenance management

Integrated rental module

Automated Accounts Payable

Integrated business intelligence




Continuous development

Vendor portal

Service call prediction

Resource management

Visual asset views in service and rental




What's next?

Service call automation

Service EDI

CAD/PLM integration

2D inventory barcode support
Pronto Xi ERP Software:
Field Service Industry Success Story
Having developed its own Enterprise Resource Planning system several years earlier, Hobart Canada found it was so highly customized it couldn't adapt to the changing needs of the business.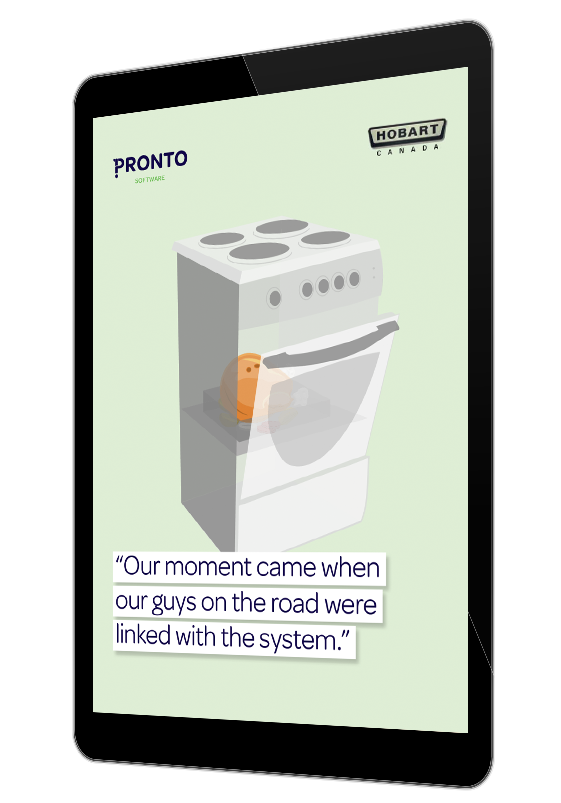 PSA Pronto Xi Field Service ERP Software Solution
Learn more about Pronto Xi for field service management erp software