Mobile Service connects field service workers in real-time to a company's back office. With enhanced communication, field service workers can share service call completion details, location information and service part sales with the office. In return, dispatch teams have the ability to share call allocation, client details, and service part information to their field service counterparts. Mobile connectivity helps increase customer satisfaction, improve first-time fix rate, increase productivity and accelerates the call-to-cash process.
This article takes an in-depth look at how Pronto Xi ERP Software's Mobile Service provides the capability to improve field service team performance through a range of well designed features.
What is Mobile Service?
Pronto Xi ERP Software's Mobile Service Module is a web-based application that processes service calls on mobile device technology within the Pronto Service Connect infrastructure. It is fully integrated with Pronto Xi's Service module, therefore simplifying the management of service calls. Through mobile service, field service workers can process service call transactions in real-time through the application installed on their mobile device.
With Mobile Service, field users manage their day-to-day activities such as planned and unplanned service calls, critical breakdowns, and scheduled preventative maintenance. It also easily captures parts used, timesheets, photos, signatures and prints services dockets at customer sites.
The Mobile Service infrastructure is shown below.
Figure 1: Pronto Xi Mobile Service Infrastructure
Built for B2B & B2C Service Industries
Mobile Service is specifically designed for service sector industries looking to improve field technician effectiveness and efficiency when on site responding to service or repair calls.
From straightforward to complex field service configurations, Mobile Service provides a great fit. Pronto Xi supports complex B2B and B2C Service delivery environments where multiple technicians can undertake work on the same call, or where maintenance schedules for multiple items of equipment can be managed efficiently and effectively by a single technician.
Mobile Device Ready
The Pronto Xi Mobile Service application can be installed on any mobile device that supports an Internet browser. This includes smart phones, tablets, and laptops.
Two-Step Authentication

For added security, Pronto Xi Mobile Service features 2-Step Authentication to protect systems with an additional layer of security.
Service Call Workflow
Pronto Xi Mobile Service features a unified workflow between Field Service Technicians and Dispatch.

Figure 2: Pronto Xi Mobile Service Workflow
Mobile Service Features
The Pronto Xi Mobile Service application provides the following functionality for its users:
Multiple views of allocated calls

View calls by technician, by date/time or by status (accepted or declined).

Accept or decline calls

Field Staff can accept or decline calls. Declined calls need to be re-allocated to another technician.

Hold calls

Place calls on hold with predefined reason codes – such as Waiting for Parts.

Call view with Google Map
Save time locating the next call with built-in Google Maps. Even better, high level call details are included on the same screen to get a full picture of the call requirements.
Figure 3: Pronto Xi Mobile Service – Call View with Google Map
Generate new calls and quotations from anywhere

The ability to create new calls and quotations from any location provides flexibility and improves processes. New items are created faster, and no need for the back office to act as a middleman.

Record predictive Q&A

Step field staff through to call resolution using subsets of equipment related questions. Question prompts are derived from answers to previous questions within the hierarchy.

Log travel and work time

Timesheet information can be entered on the service call itself, removing the need to have a traditional service report book.

Add important call notes

Include notes on service call records to ensure that complete call details are recorded.

Add pictures to enhance call tracking

Attach, edit and save pictures of onsite findings and equipment for future training or reference.

Unit details

Some details of the unit can be edited to reflect the correct information.

Mobile warehouse lookup

Search for replacement parts and verify availability without contacting the head office.

Mobile purchase orders

Create purchase orders against calls for consumables bought from nearby stores or part suppliers.

Van parts

Classify vans as mobile warehouses which can issue parts, can be inventoried, and replenished like a regular warehouse.

Out of pocket call charges

Post parking charges or any other miscellaneous charges against the call to calculate true costs.

Service docket generation

Generate service dockets at any time for distribution to customers. Simply distribute using e-mail or with a mobile printer, dockets can also be hand delivered at customer locations.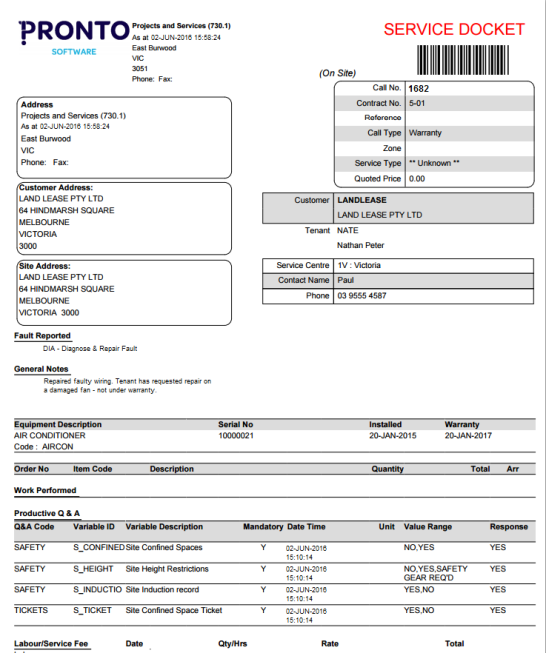 Comply with workplace safety requirements

Mobile Service can prompt engineers to verify OH&S compliance and safety procedures based on questions that are relevant to your business and your people.

Complete call and capture customer signature

Field service engineers can confirm a call is complete with a captured customer signature and a complete work summary. Create and immediately e-mail an invoice to the customer for added efficiency.
In summary, Pronto Xi ERP Software's Mobile Service helps to modernize Field Service Management by improving digital call handling and allowing Field Engineers anywhere anytime access to service data. For more information about Pronto Xi Mobile Service, please feel free to contact us.
Continue to visit our blog for more information about Pronto Xi and IBM Cognos reporting. PSA ERP consultants contribute tips and articles to our Insight page to help empower Pronto Xi users in completion of their daily tasks.