Flexibility in ERP software is essential to meet ever changing business needs. Pronto Xi ERP Software allows users to organize and complete tasks with inherent customization tools. Many of these tools we are familiar with – for example Favourites Menu, Screen Customizer, and development tools such as component libraries and exportable procedures.
What we have not discussed in past blogs is data flexibility. In our experience, there are times when a data export is necessary. ERP software should be flexible in allowing a clean raw data export that is easy to accomplish, although controlled for both security and data duplication.
Data Intelligence Project Wizard
Pronto Xi ERP Software's Data Intelligence uses the DI Project Wizard to launch controlled data exports from Pronto Xi without the need for a programmer. The Wizard provides step by step guidance to create sophisticated data sets for export.
To access the DI Project Wizard, in Pronto Xi ERP, navigate to:
Data Intelligence > DI Project Wizard (DI M001)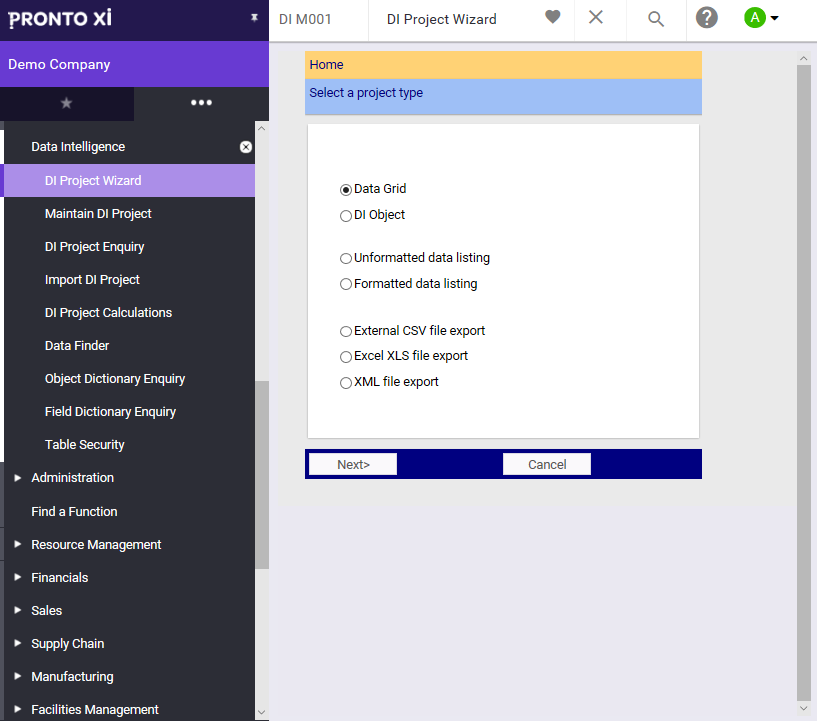 Important Note: Advanced Functionality

The Wizard, although relatively easy to run, is designed for power users that are familiar with Pronto Xi data structure, Structured Query Language (SQL), and have security access to use Data Intelligence.
Important Note: Sharing Corporate Data

Caution should be taken when exporting data from corporate systems. Ensure that exports contain only the data elements that are required, and that export files are securely managed and shared with those with appropriate data clearance.
Benefits of the Data Intelligence Project Wizard
Here is a quick summary of what you can do with the DI Project Wizard:
Perform quick exports of large amounts of data
Export from a single table or perform joins (and validate joins) to create multi-table views
Select specific field data as required across all tables in view
Include calculated fields for further data analysis
Ability to save exported data in Microsoft Excel, .CSV and XML file formats
Ability to launch a saved export configuration from the Pronto Xi Navigation Menu
Secure access to the DI Project Wizard and provide only to those who require the tool
When the DI Project Wizard for exporting data is run, that data output is saved directly to the Pronto Xi server. In Post Processing, the user can use Transport to Remote Host or Run Script to transfer the file to a secure network drive or local machine. Another method to transfer the data output file from the Pronto server is to use an FTP client such as WinSCP.
Using the DI Project Wizard
For full details regarding the use of the Data Intelligence Wizard, a User Guide is available from Pronto Software. This comprehensive guide provides complete process details including security setup for those requiring access.
For more information about Consulting Services for Pronto Xi ERP Software
PSA is proud to be a Certified Pronto Software Business Partner. Our consulting team provides insight to organizations in mining, distribution, field service and manufacturing industries. To learn more about PSA Inc., please contact us.