Pronto Xi ERP Software includes IBM Cognos Analytics which is fully integrated in the software. This allows users to view rich dashboards that compile ERP data into usable metrics for review, tracking and decision-making.
With every concurrent Pronto Xi ERP user license, two (2) Cognos Workspace named user licenses are provided. For example, if a site has 15 concurrent Pronto Xi user licenses, 30 Cognos Workspace named user licenses are provided.
Each Cognos Workspace license provides authorization for users to access and run dashboards, and make minor changes such as reorganizing content, filtering, among others.
When this authorization is not set up, users will receive the following error when trying to run dashboard content: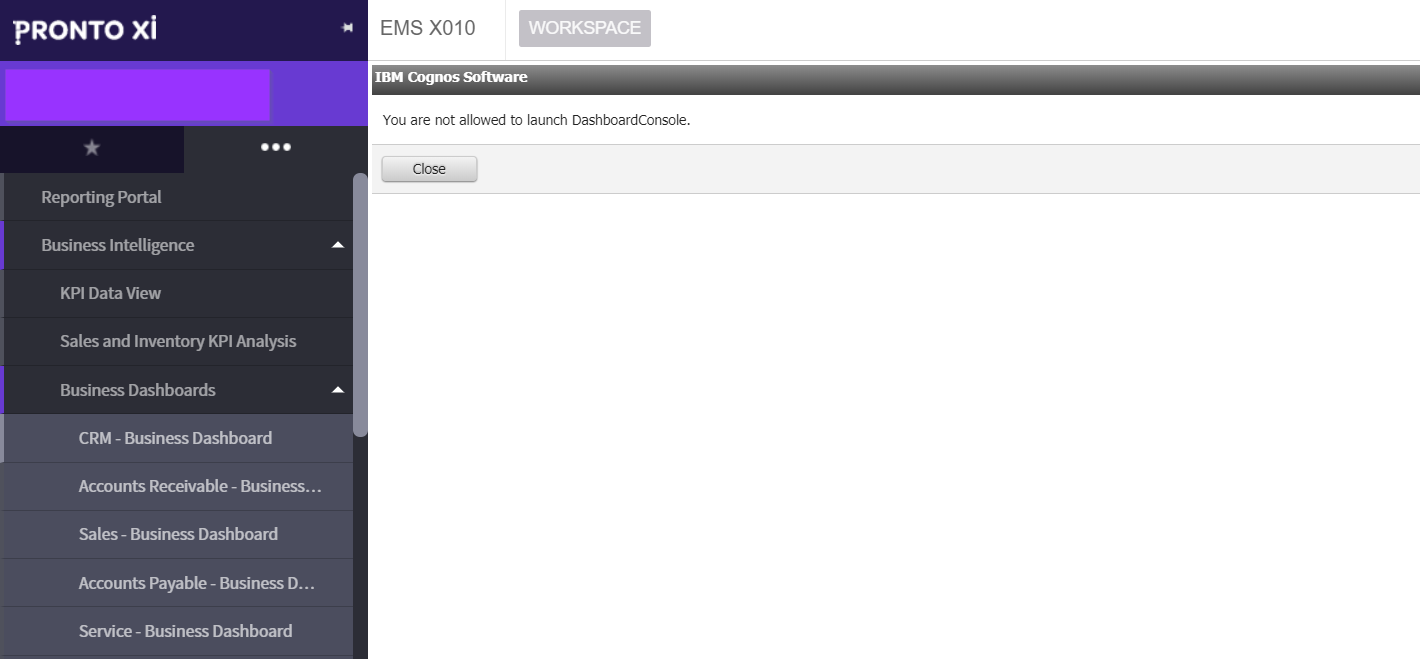 Figure 1: IBM Cognos User Authorization Error as shown in Pronto Xi ERP Software.
Important Note:

This tip is intended for System Administrators. If you are not an Administrator and would like to gain access to IBM Cognos Dashboards from Pronto Xi ERP, please discuss with your Pronto Xi System Administrator.
Steps to Configure User Access to IBM Cognos Dashboards in Pronto Xi
From Pronto Xi ERP Software,
Navigate to: Administration > Reporting Server Administration > Reporting Capabilities (SYS M168)
Figure 2: Reporting Capabilities (SYS M168) screen in Pronto Xi ERP Software.
From the list, select COGNOS WORKSPACE.
Click MEMBERS. Cognos Workspace user list will appear which will also display the total number of licensed users in the title bar.
Click ENTRY.
Figure 3: Reporting Capability Members screen in Pronto Xi ERP displaying the total number of available Cognos licenses and list of users with access.
Fill in the reporting capability member record as follows:

In the User ID field, enter the account of the user requiring Cognos Dashboard access.
In the Company Code field, enter the company in which the user should be granted Cognos Dashboard access.
Press ENTER to save the record.

With these steps completed the selected user can now run dashboards in the companies specified. Notify the user to run the IBM Cognos dashboard.
Figure 4: Customer Relationship Management (CRM) Dashboard displayed after user authorization is configured.
Continue to visit our blog for more information about Pronto Xi and IBM Cognos reporting. PSA ERP consultants contribute tips and articles to our Insight page to help empower Pronto Xi users in completion of their daily tasks.