From within Pronto Xi ERP Software, users have the ability to create IBM Cognos Analytics Reports to improve business intelligence. Often in these reports, prompts and parameters are used to filter and define the content of the report.
In this blog, we will review the steps required in displaying the value entered within a prompt page parameter on the report.
Important Note: Use of IBM Cognos Report Studio

The instructions provided make use of IBM Cognos Report Studio found within Pronto Xi ERP Software. This instruction assumes that users have experience using the report writing application including creation of prompts on reports.
Step 1: Create the Report Prompt
From IBM Cognos Report Studio, open the report in design mode. Navigate to VIEW > PROMPT PAGES:
Open the Prompt Page
From the Toolbox, place and configure the appropriate Prompt Control (Text Box Prompt, Date Prompt, etc.) on the page.
Enter a parameter name. Take note of the parameter name for future steps (in our example, pInvoiceDate).
Complete the configuration of the parameter requirements.
Save and close the Prompt Page and return to the report.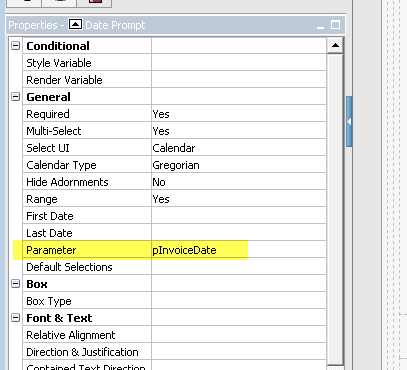 Step 2: Create a Placeholder on the Report for the Parameter Value
A TEXT ITEM field will be used to store the parameter data to be displayed on the report. In this step we will add a TEXT ITEM to the report.
From the Cognos Report:
Drag and drop a TEXT ITEM control from the Toolbox on to the report. Be sure to place the item in the location where you would like to have the detail displayed on the report.
Cognos will prompt for a text entry. Leave blank. Click OK.
Step 3: Configure the TEXT ITEM
Begin by locating the Source Type property under the Text Source heading. Switch the entry from Text to Report Expression.
Now configure the Report Expression as follows:
Under the Report Expression property (located below Source Type), click the ellipsis (…) to open the Report Expression window.
Under Available Components, select the PARAMETERS tab at the bottom of the section.
Select the parameter by double-clicking on the name. The parameter will appear in the Expression Definition section on the right.
Click OK. The Report Expression property will be populated with ParamDisplayValue('SelectedParameter').
In design mode, the TEXT ITEM will now be populated as below:

Step 4: Run the Report
With all changes complete, the next step is to simply run the report, entering the prompt values in the process.
In our instance, after selecting the 'from' and 'to' dates on the prompt page, our TEXT ITEM, field has now been populated with the values selected as shown below.

Continue to visit our blog for more information about Pronto Xi and IBM Cognos reporting. PSA ERP consultants contribute tips and articles to our Insight page to help empower Pronto Xi users in completion of their daily tasks.