BI Blog Series – All Articles Now Released!
Read the Next Part in the Series: Hierarchies, any Structure for any Users now. Click here to view.
Taking a deep dive into
Pronto Xi ERP Software's Business Intelligence Offering
ERP has typically been a reliable tool for the accumulation of transaction and master data, but extracting and analyzing data has often presented challenges. As ERP systems have failed in providing robust, reliable and efficient reporting tools, the Business Intelligence offers provided by the market place has expanded significantly. Since the release of Pronto Dimensions ERP Software (Release 700), Pronto has been partnered with IBM to provide an out of the box, and completely integrated Business Intelligence tool in IBM Cognos Analytics. The availability of such a powerful reporting tool, through an integrated and real time relationship with the ERP has provided significant improvements to the way in which users can extract information in meaningful formats from Pronto Xi.
The longevity of an ERP lies purely in its ability to continually provide value to the business' stakeholders. There is room to develop even the most refined ERP when analyzing the systems functionality against the capability. It is highly likely that all readers of this blog series will find at least one topic below that their BI solution is not currently addressing.
The focus of these posts is to bring attention to the capability that Pronto and Cognos can offer when used effectively together. While functionality has developed considerably over the last 8 years, the general knowledge of the ERP users has not advanced as quickly as the product. There are several areas of focus that can help any organization achieve a truly efficient and meaningful Business Intelligence solution, this blog aims to help understand those elements a little more, by identifying gaps that may exist in solutions and highlight features that portray what is possible with a best practice solution.
In the coming weeks, the following blog topics related to Pronto Xi Business Intelligence will be covered in this series:
Each topic will be discussed in a purposefully concise format to present the concept. If you are interested in further information through a more detailed overview or demonstration, please don't hesitate to reach out to us.
Partnership of Pronto Xi and IBM Cognos Analytics
Pronto and IBM Cognos have been released as a completely integrated solution. Reporting can be accessed through the reporting portal within the Pronto Xi client, as displayed in the web client example below;

There is a repository of existing reports developed by Pronto out of the box to allow users to transition from phase 6 reporting and into Cognos BI reporting. Like for Like replacements are available for most of the standard phase 6 reports. The parameter prompts have been replaced by web client friendly interfaces, and the output is interactive and designed for smooth interpretation.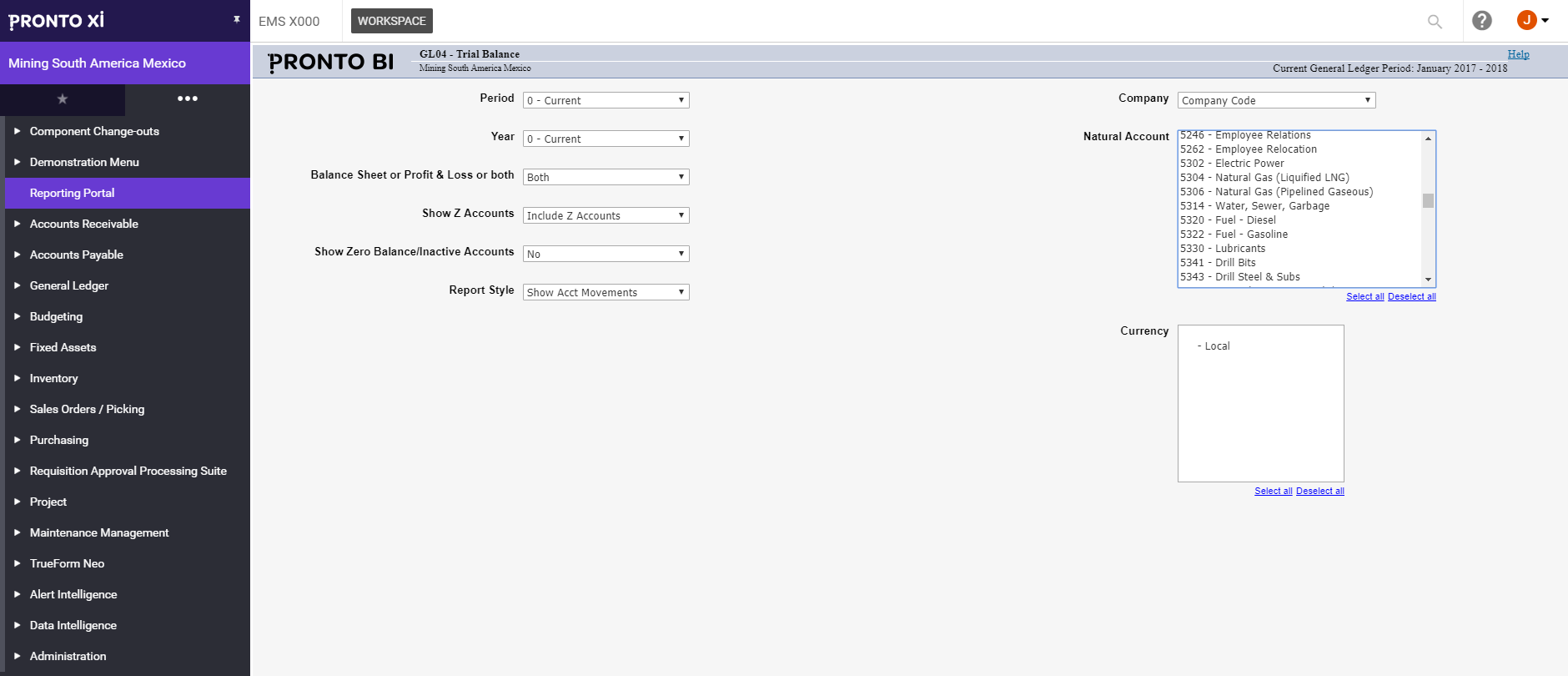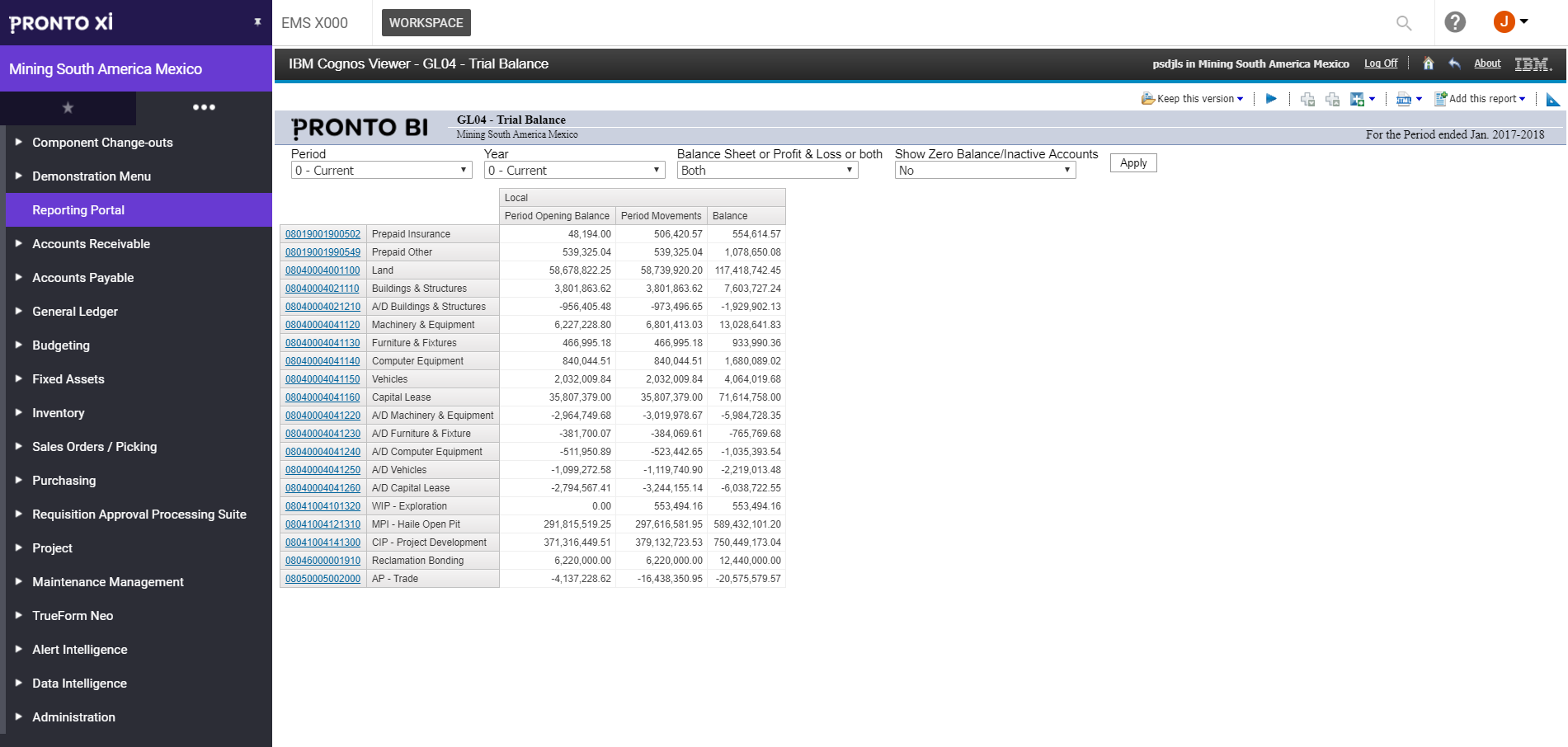 One of the more efficient changes to this reporting is the addition of interactive drop downs within the report that allow for changes to the report to be made quickly, like for periods, showing the report in detail or summary mode or removing 0 movement accounts. This allows users to run a report and compare this against other periods or parameters quickly and without needing the user access the same report parameter page repeatedly.
Cognos reports are completely Microsoft Excel (.XLS) and Portable Document Format (.PDF) compatible for ease of export to common media formats.

Many of the features of Cognos can be explored through product demonstrations or training. To understand more about the features of IBM Cognos Analytics and its relationship to Pronto Xi ERP, please don't hesitate to reach out to PSA for a more in depth session.